Victress Beauty Lounge's Brow Lamination service is a two-step process. The first one is where apply a specialized cream over your natural brows to separate the strand bonds. Post that, we apply another solution to strengthen the strands and form bonds to keep your brows
Eyebrows can turn a glam appeal to fab or drab. plucking too much or inappropriate shaping can impact the arch of our brows and facial aesthetics. Brow Lamination Services are dominating the vogue industry and so far have grabbed numerous positive responses through our quality services. Brow Lamination is a process of restructuring brows and setting them into the desired shape giving the arch a more defined look and improving the symmetry.
Eyebrow trends have enjoyed ebbs and flow in the past and now the new beauty regimen of Brow Lamination is dominant on social media feeds. The Brow Lamination is a microblading alternative that has served the gaps of thinning, overplucking, unruliness, and more. The noninvasive treatment is temporary, effective, and affordable. If you are skeptical of microblading or looking for fancy and bit dramatic brow arches, dive in for Brow Lamination Near Me at Victress Beauty Lounge.Read More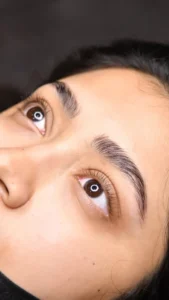 What are laminated brows?

Laminated brows, also known as brow lamination, is a trending technique in the beauty industry that involves reshaping and styling the eyebrows to create a fuller, more defined look. This innovative treatment involves applying a special formula to the brows, which helps to straighten and lift the hairs, giving the illusion of thicker, fuller brows.

The process of laminated brows typically involves five steps. First, the brows are cleaned and prepped for the treatment. Next, a special adhesive is applied to the brows to help lift and shape the hairs. A lifting solution is then applied to the brows to help straighten the hairs and set them in place. After this, a neutralizer is applied to lock in the shape of the brows. Finally, the brows are tinted to add definition and color.

The benefits of laminated brows are numerous. The treatment is non-invasive and painless, making it a great alternative to other eyebrow enhancement techniques such as microblading. It is also a temporary treatment, lasting up to six weeks, which means clients can switch up their look easily.

At Victress Beauty Lounge, we are experts in laminated brows and offer this service as part of our comprehensive range of beauty treatments. Our skilled technicians use only the highest quality products and techniques to ensure that our clients receive the best possible results. Book your appointment today to experience the transformative power of laminated brows.