What is Lip-Tattoo? How does it work?


Lip colour correction is a semi-permanent cosmetic tattooing process that uses small needles to deposit pigments on your lips. It's an excellent way to lighten dark lips and adjust their irregular shape and colour. It may also aid in the treatment of irregular lip colour and vitiligo. Lip tattooing is used to increase the appearance of the lips rather than to add volume or fullness. Checkout our Lip Tatoo in Bangalore if you are located in Bangalore.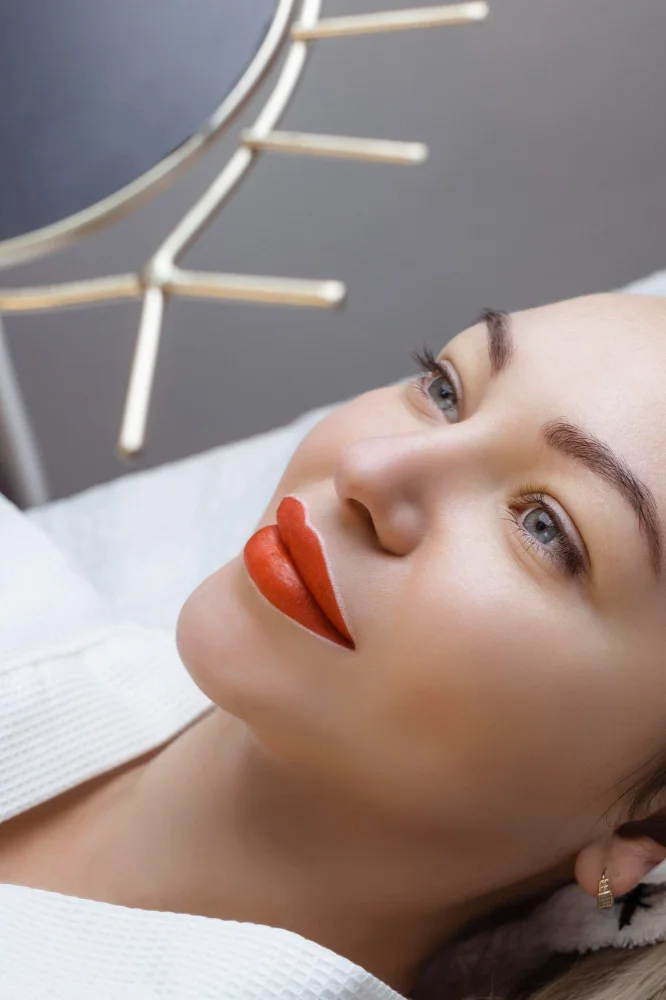 How long does a lip tattoo last?
Lip tattooing can last anywhere from 1-3 years, depending on the treatment and lifestyle factors. The pigment may fade naturally and lighten over this time. Hence, a procedure to refresh the colour every 12-18 months is recommended.
How much does a lip tattoo cost In India?
All cosmetic procedures are usually on the higher end. However, you do have different ranges to it – if done by a Certified Aesthetic Artist, SPMU artist (which is highly recommended) the price can range from Rs. 25000 to 40000 per seating. Otherwise, the price can even be Rs. 5000 per seating, if done by an inexperienced uncertified artist.
Lip tattooing is appropriate for the majority of clients of all ages and lifestyle choices. That is for anyone over the age of 18 looking for nuanced lip colour. It's especially beneficial for those who smoke, have dark lips due to genetics or older age group who lose pigment in their lips as they age. This treatment can be done by all genders.
Are there any side effects of lip tattoos?
When you opt for Lip Tattooing, also called micro pigmentation, you're actually getting a detailed tattoo on your lips. A needle inserts coloured ink into your skin to mimic makeup.
Downtime? How long will it take to heal?
To see some good result – well, you will require patience. Like every long lasting cosmetic treatment – this too will require some care & time. The day you get it done, you will see 2 major things – first, you will have a slight swelling which will last for about 24 hours. Second, your lips will be bright red or pink for a couple of days post the treatment. This will wear off eventually & you will see the discolouration reduce gradually in a span of 10-15 days. Your 1st session will focus on reducing your discolouration, the follow up sessions will work on adding a baby pink natural effect to your lips. This requires a minimum of 2 sessions – however, that will also depend on the pigmentation. Each session has at least 50 days of a gap.
The Risks of Lip Tattooing –
Like other types of tattoos, Lip Tattooing can come with health risks and side effects:
Pain. Getting a tattoo can cause discomfort. The level of pain you feel depends on a number of factors. However, your tattoo provider will lightly numb the skin before the procedure using a liquid anaesthetic. After the procedure, there will be swelling, but no pain as such. But if there is then you will be asked to apply an ice pack.
Swelling, tenderness Short-term side effects of Lip Tattooing may include swelling and tenderness, but not more than 24 hours. However, it is advised to be careful while eating for 4-5 days after the process is done. It is also recommended not to apply lipstick for this period of time.
Infection If your tattoo professional uses equipment or needles that are not properly sterilised or uses contaminated ink, you could be at risk for infectious diseases, such as hepatitis, skin infections, and even HIV. It is extremely important to do your research and visit a hygienic, experienced artist.
Where can I get this done?
Anjali travels all around attending clients. Click here to know her travel plans.
For more information on the Lip colour correction procedure, Click here.