SMP uses a fine needle and ink to apply a tattoo of tiny dots to the scalp. This creates the appearance of short-cut hair.
SMP can provide a "buzz cut" or stubble effect on a bald head, or give the appearance of a denser head of hair beneath thinning hair.
This article looks at how SMP works, whom SMP may suit, potential risks, and what to look for in a practitioner.
SMP works by tattooing a pattern of dots onto the scalp to create the appearance of hair. The tattoo patterns resemble closely cut hair follicles.
The stippled effect of the tattoo can give the appearance of a full head of shaved or closely cut hair in a person with no hair. Or, it can provide depth behind thinning hair to create the appearance of a more dense head of hair.
According to SMP practitioners, Costs may depend on the location of the clinic, the area of the scalp that requires treatment, and the experience level of the practitioner.
In some cases, practitioners with more experience, a good reputation, and who consistently deliver good quality results may be more expensive than practitioners with less experience.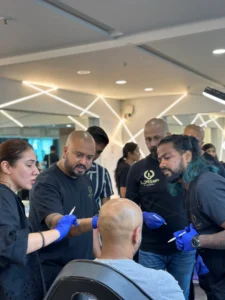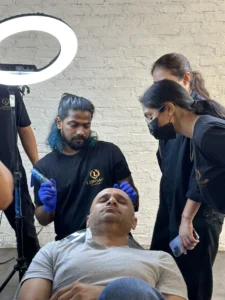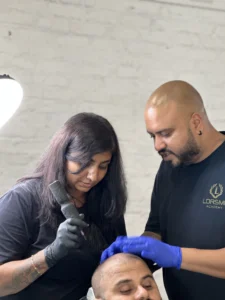 How does SMP work, and who can benefit from it?

The goal of SMP isn't to create hairlike lines as you would when microblading eyebrows, but instead to use tiny, layered dots in different hues of black to replicate the look of a shadow on your scalp. This style, referred to as pointillism, is done to create natural-looking depth and definition.

A skilled practitioner will work to ensure the dots look like a natural hair follicle and blend in seamlessly with your complexion.
This process may be useful for people who experience all forms of hair loss. This includes folks with:

cancer
alopecia
thinning hair
male and female pattern baldness
Does it hurt? What's the process like?

Before the procedure, your SMP practitioner will apply a topical numbing agent to your scalp. That said, it's good to keep in mind that there may still be some discomfort. However, how much discomfort largely depends on your pain tolerance.

Once you've done your research and sought out a responsible and skilled SMP artist (more on how to do this below), you'll likely have an initial consultation. During this meeting, your practitioner will prep you for what to expect and how you should prepare beforehand.

For example, here are some general guidelines:

Shower before each treatment. You won't be able to wash or wet your scalp (this includes sweating excessively) for four days after each appointment.
Each treatment typically takes between four and five hours.
How many treatments you need will depend on the amount of scalp getting SMP. Even if it's only for a small area like a widow's peak, Cohen says three to four treatments are still needed for long-term retention since SMP is a process of layering color.
Treatments will be scheduled a few weeks apart.

In the weeks between treatments, don't go swimming, use steam or sauna rooms, or take extremely hot showers that may cause a steam storm.

Avoid exposing your scalp to the sun for the first four days (wearing a hat is fine). On the fifth day after treatment, you can expose the treated skin to sun for one hour, or 45 minutes if you have very fair skin.

Keep in mind, though, that less sun exposure to the treated area means better long-term retention.
How much does it cost, and how long does it last?

The price of SMP varies depending on how much of your scalp needs to be covered. Cohen says each treatment typically between runs between $400 and $1,000.

Micropigmentation is considered semipermanent. While the effects may last up to eight years, the treated area will fade over time since all skin naturally exfoliates itself.

While the color may lighten, it'll only change if an incorrect pigment is used.

That said, if you have very dry skin, fading is likely to happen more quickly. As the skin tends to flake with dry skin, this can inadvertently exfoliate the pigment off at a quicker rate.
Are there any risks involved in this process?

As is the case with most medical procedures, there are risks involved with SMP.

While micropigmentation isn't technically considered a tattoo — tattoo ink goes much deeper into the skin and is injected with a thicker needle — services like SMP and other permanent makeup do carry similar risksTrusted Source. These include allergies to certain components in the pigment and infection associated with the tattoo ink.

However, the most important thing to be aware of is that no formal training is required to become an SMP artist (the same goes for microblading). It's for this reason that it really is vital that you do your due diligence when searching for a reliable practitioner.
How to find the right SMP practitioner for you?

Before you decide on an SMP practitioner, it's crucial to do your homework. Make sure to visit the office where the service will be performed.

When it comes to licensing and the general regulation of SMP, it varies by state. For example, in California, the process for practicing tattooing, branding, body piercing, or permanent makeup (SMP is included in this) is licensed and regulated the exact same way. That said, a licensed tattoo artist can often make the shift to SMP with little to no trainingTrusted Source.

Furthermore, the Food and Drug Administration (FDA)Trusted Source warns, "Consumers should be aware of the risks involved [with tattoos and permanent makeup] in order to make an informed decision," especially as the FDA hasn't traditionally regulated tattoo inks or the pigments used in them.

Cohen, who was formally trained specifically in SMP by expert Zang Miah of Zang SMP, says that results can be disastrous if done by an inexperienced practitioner.

If you feel any hesitation toward the practitioner, Cohen warns that this is a sign that the environment isn't the best fit for you. Simply put, trust your gut.

Next, be sure to ask the artist how many appointments they schedule each day. This kind of service is time-consuming and requires an intense amount of focus. So, if a person is seeing more than four or five clients per day for SMP, that's typically a red flag. It may indicate the practitioner isn't giving each client the attention and time they deserve.

You'll also want to find out more about the practitioner's background, such as who trained them, length of their training, and seeing their portfolio (Instagram is often a good way to do this). It may also help to speak with a few of the practitioner's former clients about their experiences.

Ultimately, it's essential to remember that SMP is an investment. But if done correctly by a qualified and trained artist, SMP can be a truly confidence-boosting procedure with no downtime.
What separates Victress Beauty Academy from other training academy's?

Victress Beauty Academy stands out from other training academies in several ways, providing an exceptional learning experience for our students. Here are the key factors that set us apart:

Small Class Sizes: We prioritize individual attention and ensure small class sizes, allowing for more personalized instruction and ample one-on-one time with our educators. This approach promotes a supportive learning environment and enables students to receive focused guidance throughout the training.

Globally Renowned Educators: Our educators are not only highly experienced and skilled but also globally renowned in their respective fields. They bring a wealth of knowledge and expertise to the classroom, sharing industry insights and best practices. Learning from such distinguished professionals gives our students a unique advantage and exposure to cutting-edge techniques.

High Success Records: We have a proven track record of success with our graduated students. Many of our past students have gone on to achieve great success in their careers, building thriving businesses or securing prominent positions within the beauty industry. Our academy's commitment to delivering top-quality education reflects in the accomplishments of our graduates.

Hands-on Models: We prioritize practical learning and ensure that our students gain hands-on experience during their training. Our students have the opportunity to work on real models, applying the skills they learn in a real-world setting. This practical approach fosters confidence, enhances technique, and prepares students for the challenges they may encounter in their professional careers.

At Victress Beauty Academy, we are dedicated to providing comprehensive training, empowering students with the knowledge and skills needed to succeed in the industry. Our commitment to personalized attention, renowned educators, successful outcomes, and practical experience sets us apart as a leading training academy in the beauty industry.
Who is this Program for ?

Makeup Artist , PMU Artist , Dermatologist , Cosmetologist , Freshers , Freelancers, Entrepreneurs , Doctors , Salon Owner

Anyone can take our classes.  Weather you are a doctor, in the beauty industry, salon owners, corporte employee etc.